Description
SUUNTO TRAVERSE 
GO EXPLORE
When you go off the beaten path, it's not only about exploring the wilderness, but an inner journey to yourself. Let go of your hesitation, allow uncertainty change into confidence, doubt into the joy of succeeding. Out in nature, adventure turns into everlasting memories.
Suunto Traverse is your ideal companion on treks in the wild. Plan your route in Suunto Movescount with topographic maps and stay on course with the GPS navigation. The powerful battery of Suunto Traverse keeps you exploring hour after hour.
POWER OF MOUNTAINS
Where do you draw strength and solace amidst hardships, how do you turn fear into courage? Andy Earl, a Utah-based artist and adventurer shares his story and talks about his love for the mountains and how they have shaped his life.
DISCOVER NEW ROUTES WITH HEATMAPS
Use heatmaps on Suunto Movescount and Suunto Movescount App to find the most popular places to run, ride, swim, ski and more. Heatmaps reveal the tracks frequently used by the Suunto Movescount community all over the globe, based on millions of Moves.
You can plan your own routes on Suunto Movescount with the help of rich, topographic maps. Trace a heatmap, or go your own route. Connect to your compatible Suunto sports watch and navigate the route with your watch.

PLAN ROUTES ON DETAILED OUTDOOR MAPS
Plan your own trips or explore ready-made routes in Suunto Movescount using detailed topographic maps including terrain data for hiking, trekking and other outdoor activities. The altitude graph in Suunto Movescount lets you define the optimal ascent and descent already when planning the routes. Upload the route to your watch, and you're ready to explore new terrains!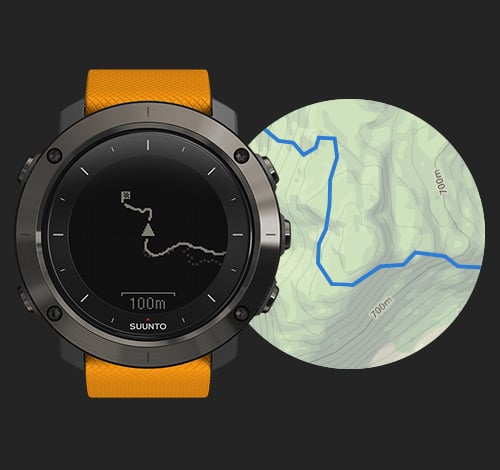 NAVIGATE WITH CONFIDENCE
Accurate location information is key for a safe and enjoyable hike. Suunto Traverse helps you navigate a planned route. Follow your progress with key statistics such as distance and altitude. Save points of interest along the way and, if needed, re-trace your steps using the automatic breadcrumb trail. Use the digital compass to quickly orientate yourself in unknown terrain.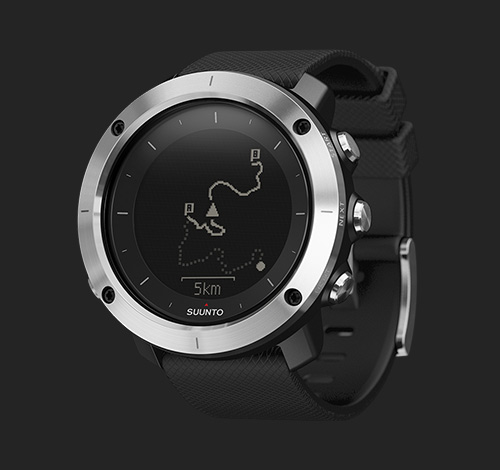 POWERFUL AND ACCURATE
Suunto Traverse uses both GPS and GLONASS satellite navigation systems to calculate your speed and location. Altitude, vertical speed and total ascent are measured with FusedAlti™, where barometric pressure information is combined with satellite altitude. Suunto Traverse provides up to 100 hours of battery life while recording your outdoor adventures.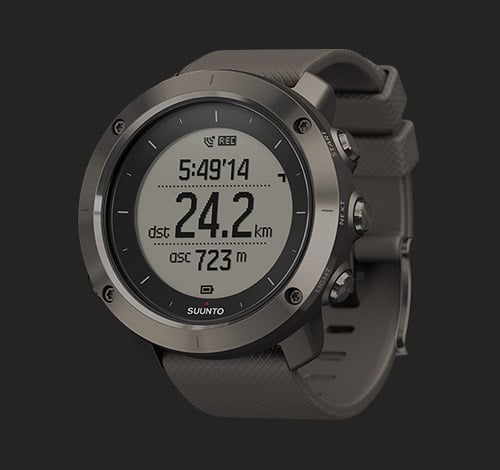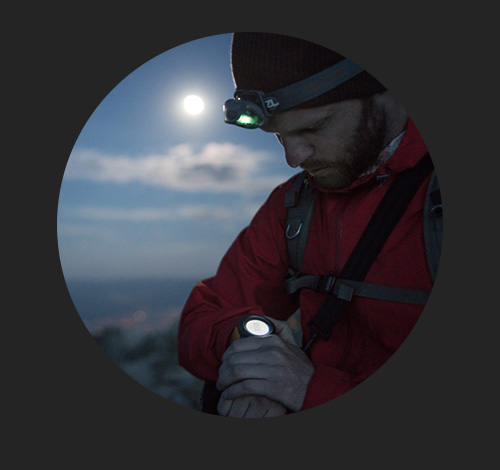 WEATHER TREND AND DAYLIGHT
Barometric trend predicts weather changes, and storm alarm alerts you when it's time to find shelter. Sunrise and sunset times keep you informed of the available daylight hours. When darkness sets in, the backlight in flashlight mode helps you find your essentials or check a map.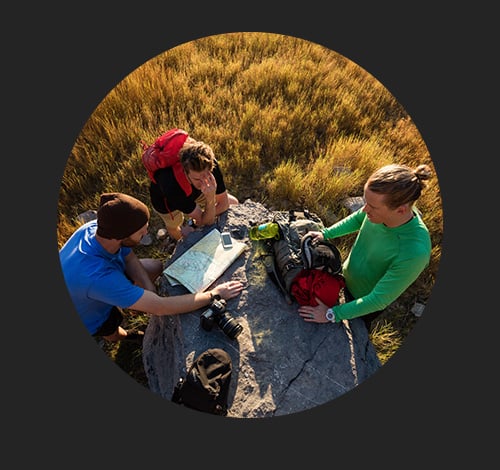 FOCUS ON ENJOYING THE MOMENT
Suunto Traverse is simple to use, with quick access to key features, allowing you to enjoy the moment. Mark Points of Interest with a single button press. Quickly cycle through relevant information on-the-go. The vibration alerts are noticeable, yet keep noise disturbance to minimum.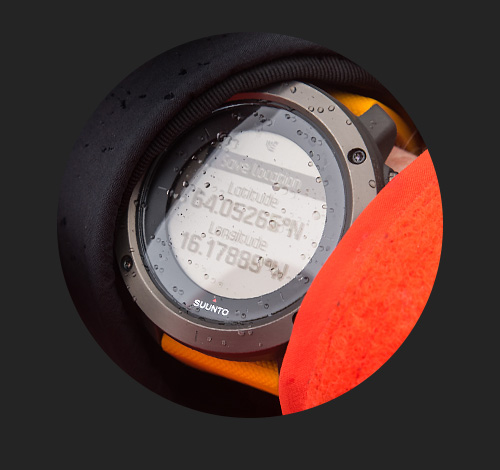 RUGGED CONSTRUCTION, MADE IN FINLAND
Suunto Traverse watches are designed, tested and hand built in Finland. They are water resistant to 100 m/330 ft. The composite case feels light on the wrist and the stainless steel bezel protects the recessed screen.
In addition to our internal testing, we let independent test laboratories put our products to the limit. Watch a video of Suunto Traverse being tested according the military standards (MIL-STD-810G).
THE DAILY WATCH
Traverse is designed for the outdoors, but with the modern looks and versatile functions you can wear it for your everyday adventures, too. GPS timekeeping and automatic DST adjustment help you be on time wherever you are. You can track your daily activity with steps and calories. Stay up to date with incoming calls, texts and push notifications from your smartphone to your watch. Watch settings can be customized either in Suunto Movescount or with the Suunto Movescount App for iOS and Android.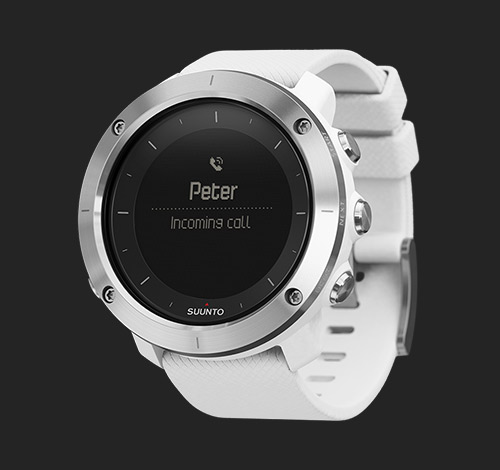 SAVE AND RELIVE YOUR ADVENTURES
Once returned to the camp site or back in town and the hike of the day is recorded on the watch, it's time to transfer the data wirelessly to Suunto Movescount with Suunto Movescount App for iOS and Android. In addition to providing data about your journey, the app allows you turn your adventure into a Suunto Movie – a visualization of your track on a 3D map with key metrics. Add pictures to the Movie to bring your journey to life. Relive your adventures and share them with friends through SuuntoMovie YouTube channel, via Suunto Movescount or your social media channels.
Download the Suunto Movescount App

SHARED EXPERIENCES
Suunto Movescount enables you to share your favorite routes with others and get tips for new adventures. Through the Activity Feed on Suunto Movescount and on the Suunto Movescount App, you can follow the latest news of your peers' activities and allow your friends to keep track of your Moves.
SUUNTO TRAVERSE
Find your way with integrated GPS navigation
Up to 100 hours battery life, sunset/sunrise times and storm alarm
Made in Finland
GPS and GLONASS for route and POI navigation
Real time breadcrumb view of the recorded track
Tracking for speed, distance and altitude
Route planning in Suunto Movescount with topographic maps
Route preview and route altitude profile on the watch
Discover new routes with heatmaps on Suunto Movescount and Suunto Movescount App
100 m/330 ft water resistant
Altitude (FusedAlti™)
Weather trend and storm alarm
Sunrise-sunset times
Compass
Backlight in flashlight mode
GPS time update
Vibration alarm
Daily, weekly, monthly and yearly activity tracking of steps and calories
Mobile notifications
Compatible with Suunto Movescount App (iOS and Android)