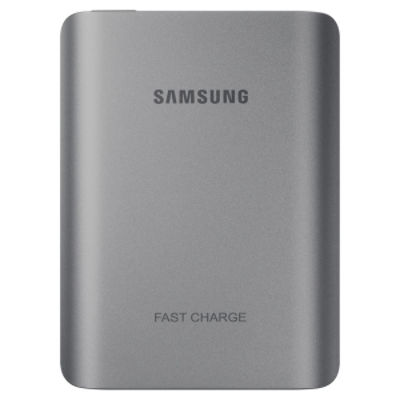 Compatibility: Universal support for devices capable of charging via USB port. Additionally, the wired Fast Charge feature is compatible with the Samsung Galaxy S6, Galaxy Note 4 and later models of the Galaxy S and Galaxy Note series. Lastly, the battery pack is enabled with Quick Charge 2.0 compatibility, charging devices compatible with that technology up to 75% faster!***
Take high speed charging technology on the go with the new 10200mAh Fast Charge Battery Pack. Available in Silver and Pink Gold, this battery pack allows you to charge devices compatible with the main high speed charging standards on the market. With a universal USB port output, you can charge other smartphones, tablets or other electronics capable of charging via USB at standard charging rates. The battery pack's 10200mAh capacity can be recharged over and over. When fully powered, the battery pack holds enough juice to charge most of the latest smartphones up to at least 3 times.
Wired Fast Charge Support
The latest Samsung flagship smartphones since the Galaxy Note 4 launch are compatible with Fast Charge technology. For now, this list includes Galaxy Note 4, Galaxy Note Edge, Galaxy S6, Galaxy S6 active, Galaxy S6 edge, Galaxy S6 edge+, and Galaxy Note 5. Other devices will charge at up to a standard 2A speed.
Pass Through Charging
Charge the battery pack and a device connected to the battery pack overnight with pass-through charging. When a device is attached to the battery pack and the battery pack is being charged from a power outlet, the device will be charged to 100% first and then the battery pack will begin to charge.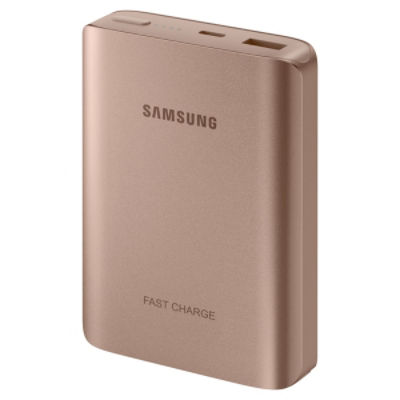 Support Rapid Recharging
Rapid recharging supported as well, allowing you to recharge the battery pack utilizing either Fast Charge or Quick Charge 2.0 technology. Recharge again and again up to 30% faster by using a Samsung Fast Charge or Qualcomm QC2.0-enabled wall charger. Recharge quickly for extra battery power on the go!
Easy to Use
To begin charging, plug in a USB charging cable like the included USB to Micro USB charging cable to the USB output port (larger rectangular port) on the battery pack and connect the opposite end of your charging cable (whether Micro USB or other) to your smartphone, tablet or other electronic device. Your device will immediately begin to charge. For recharging the battery pack, connect the included USB-C adapter to the Micro USB cable, and then connect into the USB-C port of the battery pack.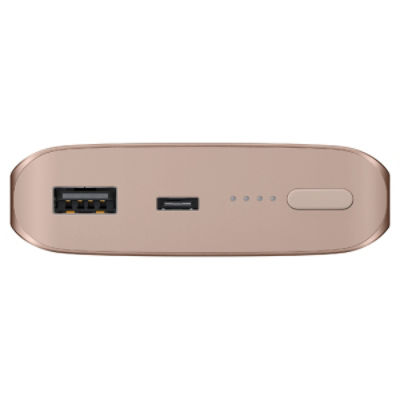 Safe Charging
Official Samsung lithium ion batteries are built-in to ensure an optimal charging experience for a range of Samsung or non-Samsung devices.
Status Monitoring
The Fast Charge Battery Pack has 4 LED indicators that display remaining charge when the status button next to the light is pressed. The LEDs also light up when the battery pack is charging and blink to indicate how close the battery is to being fully charged.